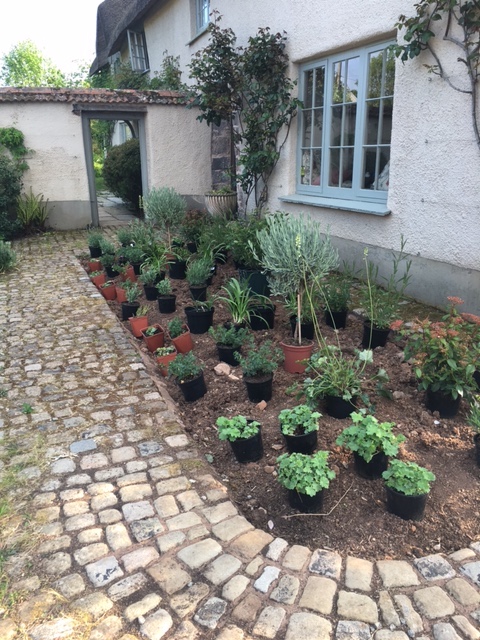 CONSULTATIONS
Please note, if you also require landscaping, the landscaping or plans for landscaping should be completed before organising a consultation with Lady Horticulturist.
The prices quoted below for consultations do not include the materials or labour required to achieve your project, the cost for these will be quoted for as part of the consultation.
ZOOM CONSULTATION
1/2 hour Zoom call to discuss your garden.  £25.00
VERBAL CONSULTATION
1 hour visit, suitable for smaller gardens, to discuss requirements, problem areas/solutions and plant recommendations –  £100.00.  A 3D visual impression of your desired look for your garden border/s is available at an extra cost of £50.00 per border.
Here's what one client had to say about their verbal consultation:
"Great to meet you today for our consultation. We learned loads and now feel totally inspired to transform our garden with your ideas and expertise. Thanks for all your tips, advice and helpful suggestions, just what we needed, Thanks. Hope to post pictures in the summer. Would definitely recommend"
FULL CONSULTATION
Full Consultations with Lady Horticulturist, for larger gardens, start from £500, dependant, upon time spent on research.
A full garden consultation with Lady Horticulturist will include:
An initial ½ hour visit to meet you and view/discuss your garden. You will be asked to complete a Consultation Questionnaire.
A second visit to your property, this usually takes about 2 hours and will include surveying the grounds, measuring, soil/ph testing, checking for pest/disease, the taking of photographs and more in-depth discussion about your requirements.
After meeting, Lady Horticulturist will provide you with a report which will include; advice on your project, before and after photographs, results of surveying/testing plus recommendations for plants with photographs plus a 3D visual impression of your desired look. This could take up to 28 working days due to research and processing
Contact me to discuss your requirements on 07720 714720 or via email at ladyhort824@yahoo.com